---
Building One Of The World's Biggest Marine Scrubbing Companies
09 October, 2019
Frode Helland-Evebo feels he is the right man in the right place at the right time.
The Norwegian joined Pacific Green Marine Technologies in September from Clean Marine as Vice President, Marine Direct Sales, and he's already excited about the future.
"Pacific Green's scrubber technology is a game-changer. It's smaller, more efficient, cheaper to install and costs around 20% less to run than the competition's. It really wasn't a difficult decision to come here - the technology is amazing. It's so good to be at Pacific Green."
Frode's main objective right now is to build the company's global sales office in Oslo.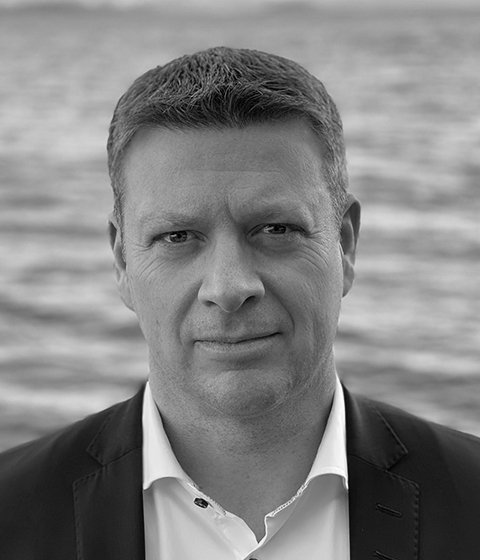 "Norway is one of the world's biggest shipping hubs. It makes perfect sense to base our global sales team here. There are banks, insurance companies, ship brokers - the whole marine business ecosystem is here. It's where we need to be."
Frode is also excited about his team in Oslo. Anders Jorgen Røine has joined the Oslo team as Direct Sales Commercial and Business Development Director.
"Anders is amazing. He was born into shipping. He's like shipping royalty. His father was the right-hand man of Torvald Klaveness, the famous Norwegian shipowner. So he worked with Torvald Klaveness on the commercial side and then also worked in the US and London with different ship brokers and shipowners. We brought him in to Clean Marine three or four years ago because of his ability to work with commercial and technical guys. He was a huge success. I'm really glad he moved here too."
Frode and Anders were also recently joined by Gisle Kevin, who will be Vice President New Build Sales. Gisle has worked in the marine industry since leaving the Royal Norwegian Navy in 1989.
Most recently he spent nearly eight years as Vice President Global Sales of ABB. Frode speaks warmly of Gisle, too.
"I've worked many years with Gisle at a variety of companies, including Honeywell. He is so very good at what he does. We need his commercial talents."
Frode's excitement with the product and people he's working with is infectious. But he's aware that there is a lot of hard work ahead.
"We want to be big. Pacific Green aims to be one of the biggest scrubber companies in the world. But to be big we need to have a clear strategy on how to grow and we have to work hard to get there. Right now we are analyzing the global fleet, and then differentiating on vessel age, profiles, and trade to find which shipowners will most probably go for scrubbers and then try to penetrate that market."
Pacific Green's scrubber technology is a game-changer. It's smaller, more efficient, cheaper to install and costs around 20% less to run than the competition's
Frode believes that more structure and more defined targets are important, too.
"On the global scale now we have a product for tankers and bulk containers. Also for RORO ships and RICO vessels. And we are introducing in-line scrubbers so we can go for passenger ships too. We will have a product for all segments, so it will make us competitive on a broad scale."

"But at the moment we need to be more clear on all our product offerings. So which products do we have? Which product goes to which market? We need to standardise the products more, because now we have a very tailor-made approach. That was great for starting off but we need more structure and accessibility now. We need to position our brand in the market."
Establishing a structure for the global sales team is very important, too.
"We have offices and sales people all over the world. All these need to be aligned with our global business. We have to get this right. This is not a border business, it's marine business."

Frode takes a breath and smiles.
"But this is all possible. Because we have a great product and a great team of people. And together, we will make Pacific Green one of the biggest marine scrubbing companies in the world."
Would you like to discuss more?
Our global team of advisors with years of combined experience in the marine sector are on hand to discuss your project.