---
How To Choose The Right Scrubber For IMO 2020
29 April, 2019
As 1 January 2020 fast approaches, demand for exhaust gas cleaning systems (EGCS) grows unabated.
According to DNV GL, the number of vessels with exhaust gas scrubbers installed or on order has nearly doubled over the past 6 months to 3,229.
Though this number represents a small percentage of the world fleet by number, Clarkson Research estimates that by the end of 2020 15% of the world fleet by tonnage capacity will be fitted with marine scrubbers.
New orders for EGCS are unlikely to be completed before the implementation of IMO 2020 in eight months' time, but increasing numbers of shipowners continue to see the value of installing gas scrubbers regardless.
Clarkson Research estimates that by the end of 2020 15% of the world fleet by tonnage capacity will be fitted with marine scrubbers.
Uncertainty about sufficient supply of very low sulphur (sulfur) fuel oil (VLSFO) next year persists. Future values of high sulphur fuel oil (HSFO) are falling.
And ports states such as Singapore are threatening possible jail time for shipowners who do not comply with the IMO's new 0.5% sulphur emissions cap.
There are many incentives to fit a scrubber, but how to choose the right one?
There is no universal answer to this question. The best scrubber solution is affected heavily by the vessel's size and layout, its operating route and its engine configuration. CAPEX and OPEX vary significantly.
Scrubber Type
Wet scrubbers are used far more broadly than dry scrubbers and consequently enjoy more focused technological development. The type of wet scrubber selected depends on the ship's primary operating route and the alkalinity of the water.
Open loop scrubbers are the cheapest to install and most straightforward to operate. Exhaust gas is scrubbed with seawater, forming sulphuric acid as the sulphur oxide in the exhaust gas reacts with the saline solution. The natural alkalinity of seawater neutralises the acid, eliminating the need for chemicals.
The wastewater is then released back into the ocean. It is in response to this process, and the perceived environmental risks it poses, that some ports have banned open loop scrubbers.
This blanket condemnation ignores the fact that the quality of discharge water varies. Top tier scrubber manufacturers ensure higher standards of water cleaning with lower, if any, environmental risk.
The environmental risk is vastly overplayed. Such authorities would do well to concentrate their minds on other, more urgent, issues such as emissions from transport networks serving the port hinterland.
However, no matter how reductionist the banning of open loop scrubbing may be, any owner considering an open loop option should keep a close eye on this trend.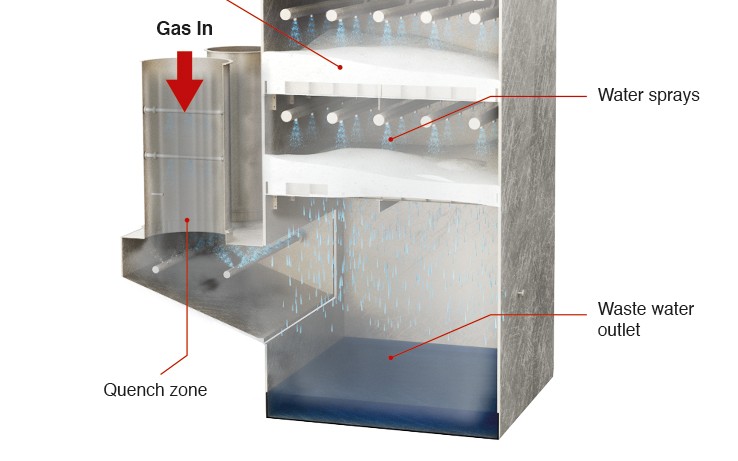 The ENVI-Marine scrubber system by Pacific Green Marine Technologies
Open loop scrubbers are only appropriate for operating routes that guarantee high alkalinity water, such as that found at open sea. Ships operating in some coastal areas, on rivers or lakes, will not draw sufficient alkalinity from their operating water.
Vessels that operate in shallow or sandy water are also advised against open loop scrubbing. If sand is drawn into the EGCS it will damage the equipment and ramp up maintenance costs.
In such cases, a closed loop scrubber is more useful. These systems do not draw a continuous flow of water from the sea, relying instead on clean water which is recirculated with alkalising chemicals like caustic soda.
The loop is not completely closed, as is often thought. Because the water needs to be refreshed, a small portion needs to be discharged to make way for fresh liquid. This can be done at sea or stored in a tank for discharge in port.
A closed loop system is more technical and consequently costlier in initial outlay than open loop. Operating costs of chemical treatment and wastewater discharge at port facilities also add to OPEX.
But one of the biggest costs of running a scrubber is the energy consumption of the pumps. Open loop scrubbers need to pump considerably more water than closed loop versions, resulting in higher fuel bills.
In situations where vessels operate on routes across high alkalinity and low alkalinity water, a 'hybrid' system is possibly the best solution. As the name implies, such a set up allows the operator to switch between open loop scrubbing and closed loop scrubbing, depending on need.
Though the most versatile, hybrid scrubbers are also the most complex and carry the highest CAPEX requirement.
Space on ships is precious and usually impacts cargo-loading capacity. Picking a scrubber arrangement that balances space requirements with operational efficiency is critical.
Configuration
Configuration is an important consideration in choosing a scrubber. This applies to the layout of the vessel as well as the scrubber itself.
The vessel's design will determine what shape scrubber is optimal.
Options include horizontal versus vertical, or rectangular versus cylindrical.
Space on ships is precious and usually impacts cargo-loading capacity. Picking a scrubber arrangement that balances space requirements with operational efficiency is critical.
Thought also needs to be put into the best engine-scrubber configuration. Options include separate scrubbers for each engine and boiler or one scrubbing unit for multiple engines and boilers.
Separate units offer greater operational flexibility and encourage lower OPEX through higher efficiencies. With more equipment to install, however, CAPEX costs and space requirements are higher.
Combined units save on space and capital investment, but operation is often less efficient, especially when not all engines and boilers are running.
And The Winner Is…
It is clear that there is no definitive answer in choosing the best scrubber, although a hybrid solution is very attractive. Beyond IMO 2020, regional legislation has an important role to play in what owners are allowed to employ in achieving SOx compliance.
Within those constraints operators also have a number of questions to answer regarding the balance between OPEX and CAPEX, the best technical configuration for their ship, and the vessel's intended travel routes.
This is not a generic solution. Each installation is different. But no worthwhile installation is cheap. Owners seeking to harness the full benefits of a marine scrubber should seek professional advice before they float their new exhaust cleaning strategy.
Mistakes will be expensive.
Would you like to discuss more?
Our global team of advisors with years of combined experience in the marine sector are on hand to discuss your project.