---
Pacific Green - The Perfect Partner to Help you Comply with IMO 2020
03 March, 2020
Everything Pacific Green does is directed at one purpose: to develop innovative technology to create a healthier planet for our children. Over the past decade, Pacific Green has been transformed from a niche environmental technology startup into a global leader in emissions control, concentrated solar power, and power storage.
Its aim over the next decade is to further broaden its activities and become one of the most sustainable cleantech companies in the world.
At the heart of Pacific Green's mission is its groundbreaking marine gas scrubber technology, ENVI-Marine, aimed at helping shipowners meet IMO 2020 regulations on sulphur emissions.
PGMT's ENVI-Marine™ system is smaller, more efficient, cheaper to install and costs around 20% less to run than the competition's. It's a game-changer.
This patented scrubber technology is revolutionary - it's more effective and more cost-efficient than any other marine gas scrubber on the market. The scrubber is already small compared to most other systems, as the patented TurboHead™ technology allows for a footprint that is considerably smaller without compromising on efficiency.
"The technology is groundbreaking," says Frode Helland-Evebo, Pacific Green's Vice President Direct Sales who joined Pacific Green from Clean Marine. "That's all there is to it. PGMT's ENVI-Marine™ system is smaller, more efficient, cheaper to install and costs around 20% less to run than the competition's. It's a game-changer. No other scrubber manufacturer can match, never mind beat, our scrubber. It's the best."
ENVI‑Marine™ systems are fully flexible and can be supplied as open loop, open loop hybrid-ready, and hybrid systems capable of both open and closed mode operation.
The ENVI-Marine is also very flexible due to its patented horizontal head, the potential for component separation, the ability to configure footprint to fit space available and its compact size.
For vessels running heavy fuel oil, this system offers industry-leading ROI and will clean the exhaust to international emission standards far into the future.
And this technology has now been incorporated into a "naked scrubber", an enclosureless marine gas scrubber, which offers all the benefits of a conventional gas scrubber at a significant weight and cost reduction.
The compact naked scrubber can be offered as a hybrid-type that can run on any size vessel in both open and closed loop mode, so avoiding conflict with ports that have prohibited the use of open loop scrubbers.
According to Will Grainger, Business Development Executive of Pacific Green, the new naked scrubber offers a myriad of advantages over conventional scrubbers.
"The naked scrubber offers approximately a 15 percent reduction in weight - obviously for shipping that's very important because the less weight you have, the more cargo you can carry. And the installation time is also reduced by at least 15 percent. So, shipowners cut down drastically on dry-docking costs. We are talking about major savings here. And because the unit uses less power, you're seeing cost-savings here too."
"We say that the cost of a conventional gas scrubber can usually be recouped in less than a year. Well, with this enclosureless stainless steel scrubber, even that time will be reduced. Maybe to just a few months."
"We developed this scrubber in response to shipowners who have asked for lower capex and opex levels for marine gas scrubbers while still being able to satisfy the IMO 2020 emission level requirements."
"The fact that we already have substantial orders for these scrubbers tells its own tale. This is a product that will be in great demand."
The scrubber is constructed out of high-grade stainless-steel and titanium and is easily installed on the ship's deck. All critical components of the enclosureless scrubber are protected from severe sea conditions.
The small footprint of the naked scrubber is impressive, but it's the unique technology inside it that really counts.
Ken McClelland is Pacfic Green's Technical Director. He is the inventor of the company's much-celebrated patented exhaust gas scrubbing method. And, better than anyone, Ken knows why his marine scrubber design is so revolutionary and game-changing.
It's all about the bubbles.
"Bubbles are the key to effective gas scrubbing. And the smaller the bubble, the better. Tiny bubbles, which together actually look more like a froth, have the greatest surface area relationship to volume, so the tinier bubbles you can make the more efficient the process will be. The real function of all these tiny bubbles, the froth, is to create surface contact between whatever flue gas that you're scrubbing and your reagent, which in marine scrubbers is sea water."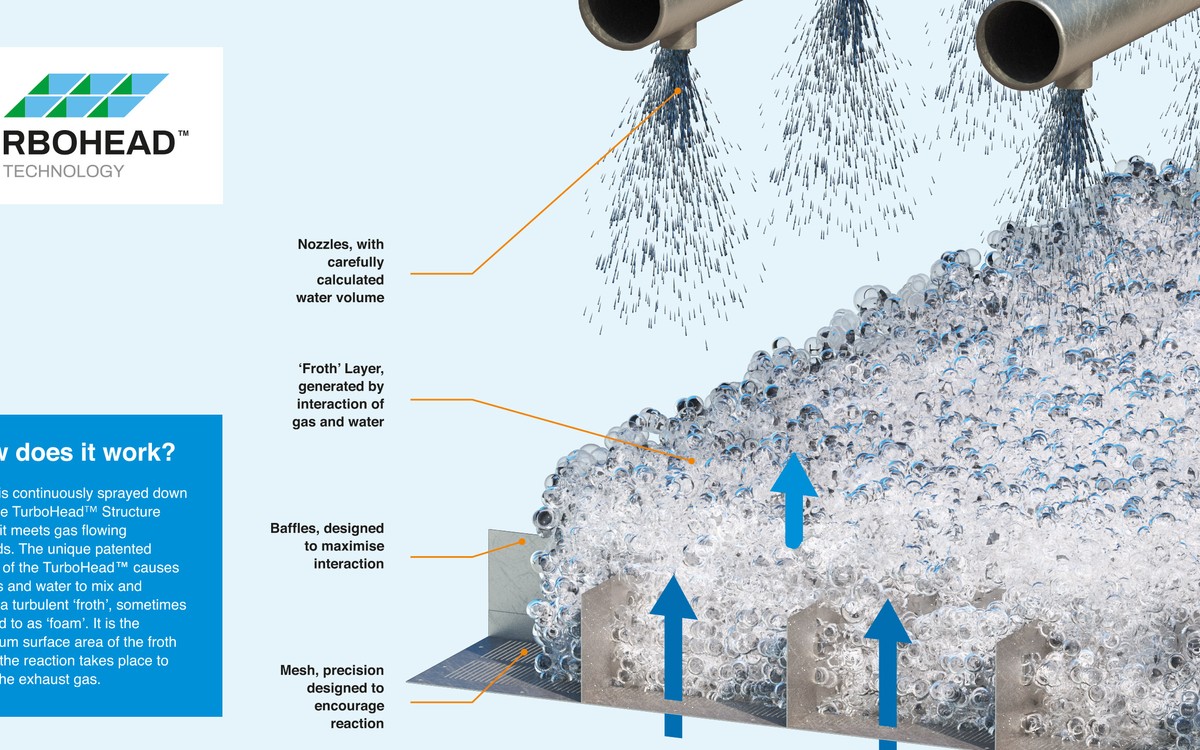 Bubbles are the key to effective gas scrubbing. And the smaller the bubble, the better.
"Let me give you an example. If you had a 100 millimeter cube, which is just one big bubble, you'd have a certain surface area. But if you had a thousand small bubbles, you'd have far more, because there's more surface area. You'd probably have 5,000 times the surface area.
So, the small bubbles then give better contact with either the acid gases or particulate that you're trying to remove."
The patented TurboHead™ technology is key to PGT's technical success. Ken produced the first usable prototype in 2011, though it has evolved continuously with field testing.
"Essentially, it's extremely simple. The flue gas comes from below the head and there are slots in the head which create a certain velocity of gas through the slots. The beauty of the TurboHead™ is its positive contact and there's a lot of energy in the contact."
By way of example, Ken suggests taking a huge breath and blowing into a straw in a glass of water.
"You'll see that you can get that water so turbulent that there's a lot of interaction. The width of our slots generates the bubble size that we want and the frequency of the slot generates the right area ratio to get the velocity through the slot for the designed reaction."
"And then the reagent, sea water with our marine scrubbers, interacts with the gas in the turbulence so all you need to do to remove sulphur (sulfur) is expose it to water. As soon as sulphur and water are in contact, it becomes sulphuric acid. And then you select the right reagent to remove and neutralize whatever contaminate that you want to remove. So in our case, we're after sulphur."
And it's this vast number of tiny bubbles, and the huge surface area they create, that makes the ENVI-MarineTM system so much more efficient than the competition's.
"The flue gas, the contaminated flue gas, has no way of going around the contact. It has to go through the froth, whereas most of the competitors' scrubbers use spray, and spray is never uniform. There are areas that may not get coverage. But with the TurboHead the flue gas has no alternate path, so there's direct contact between the flue gas and the reagent. And this makes it much more efficient."
To make this revolutionary technology more accessible to shipowners, Pacific Green has developed a savings-sharing mechanism, which effectively guarantees a return on investment for owners who elect to install Pacific Green scrubbers on their vessels.
"Our new way of offering scrubbers lets ship operators have visibility on their spending going forward," says Frode Helland-Evebo. "We're offering customers a scenario which is literally 'win-win'."
Based on the vessel's typical operating profile, Pacific Green and the owner agree to a minimum number of tonnes of HFO burned per month.
As 3.5%S HSFO is expected to trade at discount to 0.5%S LSFO, each tonne burned will result in savings to the owner. PGMT and the owner will share the savings for three years, with the owner taking a progressively larger share. After three years, the owner will take 100% of the fuel differential savings.
Pacific Green will guarantee to the owner a minimum differential ($/MT) between 3.5%S HSFO and 0.5%S LSFO for two years. If the actual differential falls below the pre-agreed differential, Pacific Green will compensate the owner for each of the agreed upon number of HSFO tonnes burned per month. This provides a guaranteed revenue floor for the owner.
And if the actual differential is higher than the guaranteed minimum differential, both the owner and Pacific Green will benefit as a result of the increased savings.
"The shipowner gets a scrubber that will probably pay for itself within the year. And we have another customer enjoying the benefits of using the best gas scrubber on the market."
The mechanism is incredibly simple. And a relatively small initial payment from the owner will secure the agreement. Pacific Green will pay for all remaining costs, including the 3D scanning, engineering, equipment supply, installation, and commissioning and sea-trials.
Helland-Evebo is understandably very pleased with this savings-sharing mechanism. "The shipowner gets a scrubber that will probably pay for itself within the year. And we have another customer enjoying the benefits of using the best gas scrubber on the market."
This brilliant environmentally-friendly, money-saving technology is all well and good. But can Pacific Green get it installed?
It certainly can. Pacific Green has partnered with state-owned Chinese conglomerate, PowerChina, to combine Pacific Green's technical know-how and specialist staff with PowerChina's massive production capacity.
PowerChina is the largest power-plant equipment manufacturer in China, and is able to distribute and manufacture PGT's patented state-of-the-art pollutant-gas-removal systems in China and throughout the world.
PowerChina has 10 production facilities in Greater Shanghai, all coordinated by Pacific Green's Shanghai engineering office, 2000+ employees, including 300+ SS certified welders, centralized procurement, client specific inventory management where necessary, localized response and oversight and client visits and class inspections coordinated across multiple scrubbers.
Meeting the challenge of fitting the world's shipping fleet with exhaust gas cleaning systems is no easy task, but, currently, Pacific Green Technologies are producing one exhaust scrubber every 48 hours from their 10 production facilities in China.

And Pacific Green's after-sales service is renowned. With numerous global manufacturing bases, the Pacific Green Global Service Network offers total reassurance of support wherever and whenever it is required and keeps costs down, maximising your return on your gas scrubber investment.
With the knowledge, skills and support of the Pacific Green Global Service Network, you can rely on your equipment for as long as you own it. Our committed team will ensure high performance that will keep you competitive throughout your equipment's life cycle.
Our licensed installation and service centres are trained to both fit, and maintain, Pacific Green Technologies' equipment. Our factory-trained personnel are on hand throughout the process to provide support and security for you and your vessel.
The most cost-effective and cutting-edge gas scrubbing technology at a very affordable price, with a huge production capacity and a global service network with a reputation for getting things done - Pacific Green offers the perfect package for shipowners looking to comply with IMO 2020.
Would you like to discuss more?
Our global team of advisors with years of combined experience in the marine sector are on hand to discuss your project.