---
From Tree Roots to Shipping Routes – Ken McClelland Maps PGT's Technological Path to Success
30 April, 2019
These are bright days for Pacific Green Technologies (PGT). The company has capitalized on imminent enactment of new maritime environmental standards to launch itself into the international marine scrubbing market.
In this process, Ken McClelland has been more than PGT's Technical Director. He is also the inventor of the company's patented exhaust scrubbing methods. Better than anyone, he knows the story behind the technology that underpins PGT's success.
Origins
McClelland's career developed organically from his upbringing.
"I grew up in a household where there were always tools. My father and his father were both people who if who something needed to get done, they basically figured out how to do it themselves. I helped my dad build a boat and with repairs around the house. I always was active in working around tools and equipment."
This natural affinity led to engineering studies at university, and eventually a degree in mechanical engineering. However, almost immediately after being recruited out of university, he was exposed to new skills.
His role at a large forest products company in Vancouver, Canada, saw him working in accounting, production, sales, operations, and technical. It was a 20-year stint that led to his selection as the first Executive Director of the British Columbia Wood Specialities Group, a trade association tasked with promoting BC value-added wood products to the world.
Four years later, Ken took on a similar role for a different trade association, before going out on his own.
"The commercial bug bit me. I ended up starting my own company to offer marketing and business development for companies in the value-added wood products industry. For close to 10 years, I worked with a series of companies and helped them with the components of the business that they were struggling with."
But in the early 2000s these marketing and business development skills married with Ken's technical expertise to set him on the path that would eventually lead to PGT today.
The first scrubber
"We formed a company to look into environmental products. We really didn't have a focus then, but within a year, we had the international rights to a patented, wet scrubbing system, by another Canadian. Though I believed in what he was trying to do, the way he was doing it was way too complicated. We changed the way it was presented, really simplified it, and got far, far, far better results."
It was a long road from that first scrubber to today's version that delivers marine scrubbing efficiency equivalent to .0047% sulphur fuel. Each iteration aimed to make the device more scalable and easier to build, while constantly improving the bubble size.
"Per unit volume, small bubbles have more surface area. So if you had a 100 millimeter cube, if you had one big bubble, you'd have a certain amount. If you had a thousand small bubbles, you'd have far more. You'd probably have 5,000 times the surface area. So, the small bubbles then give better contact with either the acid gases or particulate that you're trying to remove."
The first order in 2010 was for a small scrubber fitted to a biomass boiler in Vancouver. It was a humble start that evolved quickly into bigger things.
By 2016 the marine industry was a focal point. Though Ken and his partner had encountered the maritime industry as early as 2002, it would be 14 years before it emerged as a credible business focus.
"In 2014, we began work with Power China to get the joint venture partnership. By 2016, we were members of the Exhaust Gas Cleaning System Association and we had designed what we would need to do for a marine scrubber, and started investigating materials and how the system might function."
"Then in 2017 we produced our first marine scrubber for Union Maritime and installed it on the Westminster starting 1st of July 2017."
That project launched PGT into the shipping industry, generating momentum that sees the company today sitting on an order book close to $200 million.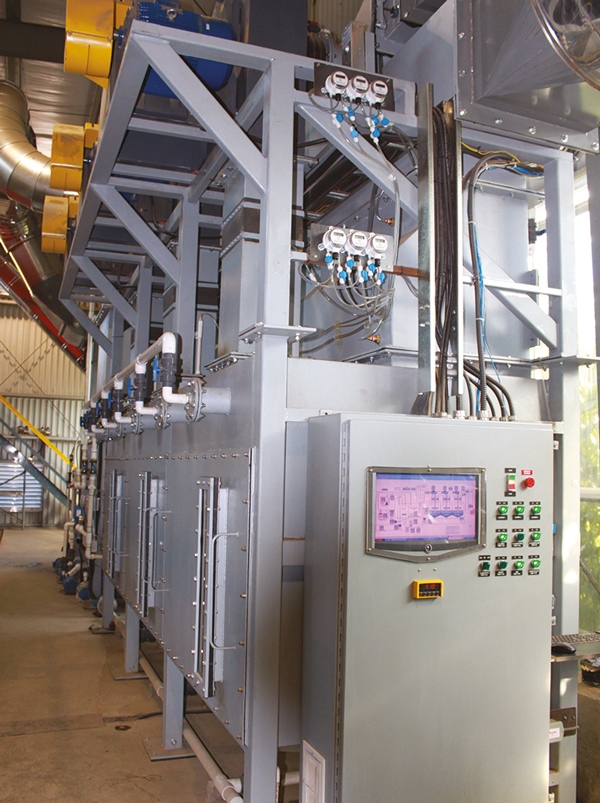 The latest scrubber
The patented TurboHead™ technology is key to PGT's technical success. Ken produced the first usable prototype in 2011, though it has evolved continuously with field testing.
"Essentially, it's extremely simple. The flue gas comes from below the head and there are slots in the head which create a certain velocity of gas through the slots. The beauty of the TurboHead™ is its positive contact and there's a lot of energy in the contact."
"If you took a huge breath and blew into a straw in a glass of water, you can get that water so turbulent that there's a lot of interaction. The width of our slots generates the bubble size that we want and the frequency of the slot generates the right area ratio to get the velocity through the slot for the designed reaction."
"And then the reagent, whatever you are using, interacts with the gas in the turbulence so all you need to do to remove sulphur (sulfur) is expose it to water. As soon as sulphur and water are in contact, it becomes sulphuric acid. And then you select the right reagent to remove and neutralize whatever contaminate that you want to remove. So in our case, we're after sulphur."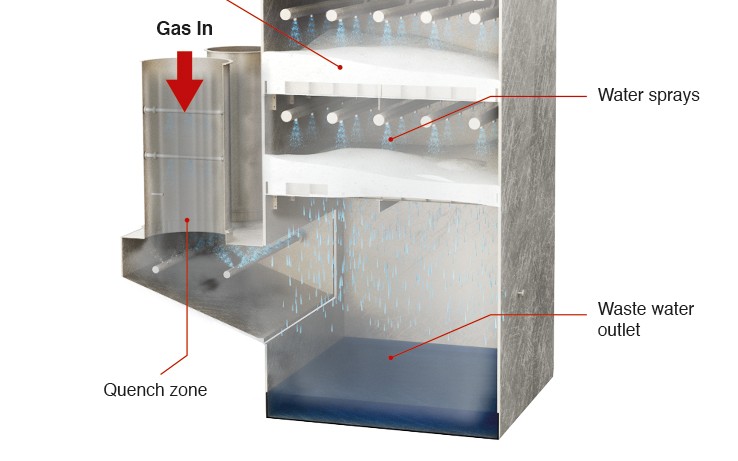 The patented TurboHead™ technology is key to PGT's technical success.
The future
Looking ahead, McClelland sees the need for a strong commitment to training, in order to deal with the burgeoning order book.
"We are taking more people on each vessel to commission it than you would normally require. The system is computer controlled and the people are at the shipyard while it's being built, but they need to see it in operation, they need to understand everything in granular detail. So we will have three people rather than one to oversee each ship on every project. We will absolutely make sure each project has ample resources."
From helping his dad out as a boy, through a diverse career and iteration after iteration of his unique scrubber design, McClelland knows the value of hands-on learning. And it looks to serve the company well as PGT prepares for IMO 2020.
Reacting to news of Singapore's announcement of stringent enforcement of SOx regulations, McClelland is confident.
"I think they're basically giving ship owners a very clear message: 'When you come to Singapore, bring your A game and comply with the emission regulations.'"
"But for our scrubbers, meeting a 0.1% sulphur limit is no problem at all."
Would you like to discuss more?
Our global team of advisors with years of combined experience in the marine sector are on hand to discuss your project.